When Were Baby Monitors Created?
Baby monitors have been around since 1937. The first one was called the "radio nurse", which was a two part speaker and transmitter that we still use today.
A designer named Isamu Noguchi created it for Zenith Radio after the Lindbergh baby was kidnapped from the family nursery.
As you can tell, baby monitors have come a long way since then. They're many different types such as two way audio, video, smartphone and even movement ones. Those are just a few.
Which Baby Monitor Is Best?
I'm sure you've been researching which baby monitor to get and of course which one is best. After all, this is helping make sure your child is okay.
Deciding on the best baby monitor is a tough choice. It really depends on what you need and how much you're willing to spend. I did all the research on finding the best baby monitors of 2018 for you so you have one less thing to worry about.
I'll be going over the best of the best monitors along with highlights and real reviews of the products as well. Of course I'm going to tell you the price and the best place to buy so you can make a confident decision and purchase it without a hassle. As always please leave any comments or questions below. Please share this page if you feel someone else could benefit from it as well.
 # 1. Nanit Smart Baby Monitor
This monitor gives you hands down the best view of your baby because it gives you an overhead view of the area. What's great about it is it records sleep activity and even tracking with HD live streaming. It also works with WIFI when your internet is down. It has a hassle free set up with hidden cords so you won't have to worry about your child grabbing it when they get to that curious stage. The motion notifications allow you to get alerted even when you're in another application on your phone. You can also share the app with care givers so you can all be on the same page. A major plus is it gives you sleep recommendations so you can all get a full nights sleep. What other monitor can do that?
"Fantastic baby monitor. Not only do we love the sleek design, but the mounting/installation is far more streamlined and safe than other monitors as well. Love the app. The creators definitely paid attention to detail and didn't miss a beat with the design and features (eg the soft glow night light is a lovely touch). Recommend!" -Jessie

"Worth every penny!!
When it comes to video baby monitors, this one takes the cake. I've tried several (with my other kids), but the camera was always grainy or the sound muffled. Not Nanit. It also works if my internet goes out b/c they are still on the network and connected to our router. Wish they had been around when my first two were born! Awesome quality, fantastic sleep analytics, amazing features". -Aya H.
#2. Infant Optics DXR-8 Video Baby Monitor
Rated "Best Video Baby Monitor" by The Bump on 2/22/2018, the infant optics DXR-8 is the first of its kind. It has interchangeable optic lenses so you can have close-up, panoramic or full view of your child. This will definitely be worth the money since you can use this for many years. With two-way talk you'll be able to hear your child crying and talk back to calm them down. It also has the capability to have up to four cameras so you can have them in multiple rooms or use them for multiple kids. In my opinion, the best part of this camera is the remote tilt zoom that is extremely quiet which is so important with a sleeping baby. It has a wireless transmission that gives you 100% privacy with no delay time and up to 10 hours of battery life. The temperature monitoring allows you to make sure your child is comfortable. It also has up to a 700 feet range that gives you peace of mind when you need to step into another room.
"This is an awesome monitor. large screen, very great sound receiver. What I like most is the changeable lens, I like it very much and the camera can turn around 270 degrees." -James

"Just received our camera today. I can't even explain how AMAZING this camera is. After 3 different (cheaper) camera purchases, I bit the bullet and spent a little more on this one. Let me tell you, I have FINALLY found one that I love! It's so user friendly and it has the easiest setup! Worth every penny I promise! Love love love! Thank you!!" -Jenna
#3. iBaby M6S Smart Digital Video Monitor for Android & iOS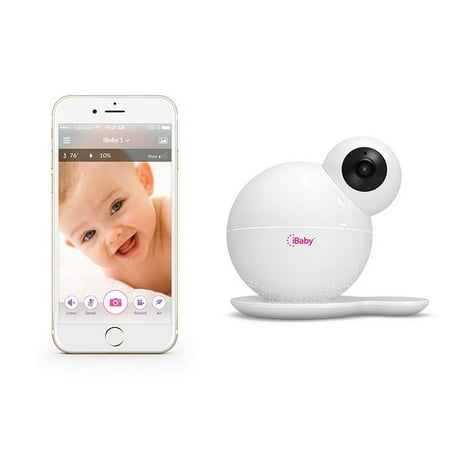 This monitor only takes 60 seconds to set up. The amazing is, you can have multiple users so other family members can enjoy watching your child if they're far away. It sends security activity and alerts right to your phone in case anything suspicious comes up. The two way audio has noise cancellation along  with a 360° view and 110° tilt that can be controlled from your smart phone with the push of a button. You can even play music from your phone to the monitor. Technology has really made this monitor a win win.
"The camera is very easy to set up and use. I have the M6S and the purifier, both work great. The fact that I can move the camera with a pinch of my finger is way too cool. I have an Eero WiFi system in my house, with no problems." -EC

"Outstanding quality product. Works exactly as described. I can travel the world and look in my niece. The wifi options and controls are awesome are a must have too that many similar products do not have." -ATX
#4. VTech Safe & Sound DM221
If you're looking for an audio only monitor, this is the way to go. It cuts down on static and feedback. Vtech is a very reputable company so you know you'll feel confident getting this monitor. It reaches up to 1,000 feet which is almost unheard of and makes for a wonderful travel monitor too. The vibrating sound alert is a plus if they're lots of noise so you still know if your baby awakens. Although this is an audio monitor, it does have 2 way talk back if you need to calm your child down. It is the best audio monitor out there at a great price.
"After more than one year of use, this baby monitor is still a highlight in all the stuff we use. Excellent sound, good battery duration away from the power cable, good range.
Used in combination with a camera system is unbeatable." -Santiago

"Works great and easy to use Very nice sensitivity. You can talk as long as the receiver is in the room, you can hear it. Works great for my daughter's monitoring! Highly recommend." -Anonymous
#5. Owlet Smart Sock 2 Baby Monitor
So I've gone over video and audio monitors, but this one is a must have if your little one needs some extra tender loving care. This monitor uses a sock to monitor your baby's heart rate and oxygen levels to make sure they are within the recommended range. It has a green light to let you know that everything is okay and sends an alert through the app on your phone to let you know if rates are too low. This is something you'll want to have for peace of mind and get a good night sleep. It is costly, however it is giving you information that other monitors can't and you definitely want that if you need to monitor something serious and that's a small price to pay.
"Best investment we have ever made. It's expensive but worth every penny. When our son is sick we watch his levels and use that to inform the doctor. I've also used it to adjust his sleeping position when his o2 levels are low indicating that he's not breathing well with his stuffy nose that he's had all winter. It's also nice when I'm not home I can pull up my app and see how he is sleeping. I would buy it again!"- Anonymous

"Can't say enough about this monitor! It saved our babies life!! He never showed signs or symptoms of respiratory distress yet the monitor let us know he was desatting down in the 70s!when testing it compared to a medical grade pulse oximeter, the owlet was SPOT ON! So worth the money!! If you have a little one here or on the way get this!!"- Amanda